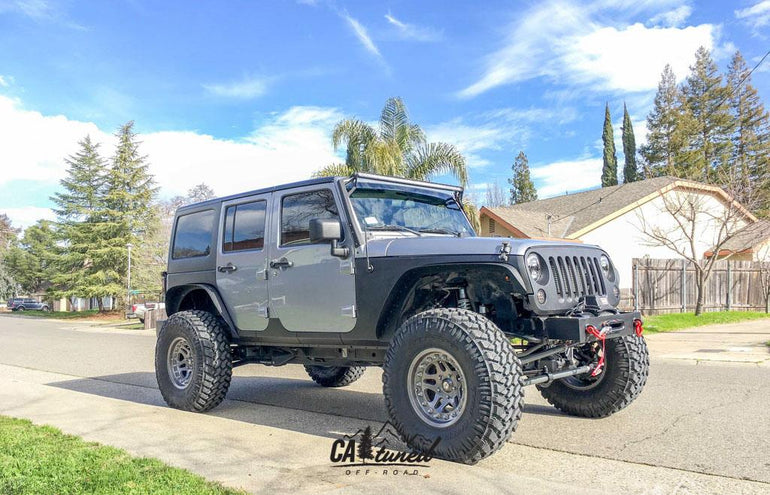 We all know that Jeep brand is a well known known manufacturer of some of the coolest 4x4 toys. 
In our case, it was time to see what it is all about.
This build was specific to the shop, as it was built & financed by someone inhouse.
Although the budget was set, labor hours were not; so parts list was made and it was time to make some calls - get this project rolling.
The idea behind the whole build was to see how efficient it could be, if it was done right from our perspective. 
Instead of purchasing a vehicle off the dealer's lot, or buying it from a private party, we made a choice of looking into the insurance auctions. 
The idea is simple, why pay more than you have to. 
We chose the route that was accessible to someone who was willing to do it, just a matter of due diligence and hard work.
After few weeks search, we came up on the one that made sense and fit wanted criteria. 
2013 Jeep Wrangler Sport Unlimited with very light damage, just perfect to our requirements/needs, as there is no point to pay for the components that we would be swapping out/replacing during the build process.
Follow brief description of the build below, as well as make your own conclusions!  If you are interested in having your Jeep modified in a similar manner, feel free to contact Max directly.
Approximate build sheet/parts list: 
Custom valved & tuned front coil overs & rear shocks by AccuTune Off-Road
Fab Series Tie Rod & Drag link kit by RareParts, Inc.
TeraFlex LCG Long Arm kit
37x12.50R17 Nitto TrailGrappler tires
Hutchinson True Beadlock wheels
Rubicon Dana44 axle (regeared 5.13)  & NP242 transfer case swap
Upgraded front/rear drivelines (1310)
Axle truss kits by Artec Industries
JWSpeaker headlights
Rigid Industries LED lighting
Deep cycle X2 blue power cell
Diff covers by RuffStuffSpecialties
SuperChips programmer
Warn VR10-S winch