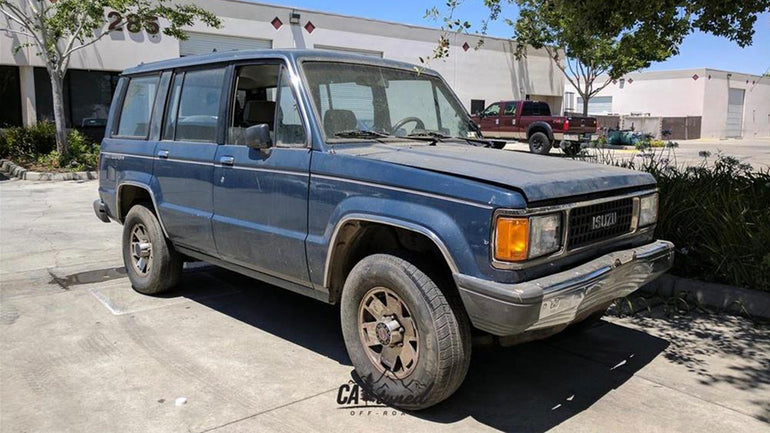 We at CAtuned Off-Road love unique vehicles. Few years ago we came across an Isuzu Trooper that caught our eye. The trooper was headed for the car graveyard. Having a soft spot for square body old school vehicles, we just could not resist and decided to save the vehicle. The Trooper had a blown engine and we had a 2.6L Isuzu Trooper engine sitting around from a previous build. Our initial plan was to replace the engine and build a dedicated daily driver. A customer saw her at our shop and fell in love with the Trooper and convinced us to not only sell the vehicle but also completely transform the vehicle.
The customer wanted a vehicle that could be a daily driver, overland vehicle and a capable off-road vehicle that can take on the Rubicon trail in the Sierra Nevada mountain range but at the same time not blow his budget. We knew that stock Isuzu Trooper would not be enough. We have built dedicated rock crawlers and dedicated overland vehicles, but this build had to able capable of any terrain the owner can throw it on the weekend and still be able to drive the vehicle to work on Monday. Our goals where set high.
With the requirements provided and the budget set, we jumped right in. We came across Land Cruiser FJ80 axles and new they would be perfect for this build because the FJ80 axles have factory E-lockers and high pinion. To ensure the axles where bullet proof, we completely rebuilt the axles and installed Hellfire knuckles from RuffStuff. We chose the Hellfire knuckles because they have bigger bearings and high steer. High steer is important because when you are lifting the truck the steering geometry changes. This allows the geometry to be restored.
For the steering components we needed something that was heavy duty and can sustain constant abuse. Rare Parts fit the bill and can withstand anything we can throw at them, including taking on the Rubicon trail. 
Next, we had to choose the front shocks. We ended up using 12" travel Fox coil overs with adjustable remote reservoirs from AccuTune Off-Road because we have used them in the past and they have never let us down. We also utilized the AccuTune Off-Road 2" Fox bump stops with a 10" limit straps to prevent any damage to the coil overs.
The front would not be complete without suspension to hold all these components in place. We design and built a custom three link suspension with a panhard bar. Ballistic Fab joints were used to strengthen our suspension. We all added a truss for the front axle.
For our transfer case we used Revolution Gear kit that changes the factory transfer case's low range from the stock 2.0:1 ratio by over 50% to a new low of 3.07:1.  With over 50% more reduction the customer will enjoy greater control over off road obstacles, increased torque and power in 4 low, and of course improved hill climbing ability.
For the rear axle, we went with a custom RuffStuff axle housing which used a Toyota 9.5" Land Cruiser carrier. We choose this axle housing axle housing because it is the smallest shape possible and strongest shape too, there are also no abrupt edges to hang up on passing rocks.
The axle has a very strong wall thickness by using 3 1/2" x 3/8 DOM steel. To keep this axle bulletproof we used Dutchman Motor Sport custom axle shafts made from high-strength chromoly steel. 
For the rear shocks we used pre-tuned AccuTune Off-Road using 12" Fox 2.5 Internal Bypass (IBP) with Dual Speed Compression Adjuster (DSC) to be able to take on any on-road or off-road obstacles. We have also added custom cardan drivelines built by Tom Woods.
To finish off the build we used 37" Toyo Open Country MTs on beadlock wheels to allow the vehicle to go anywhere. A vehicle that can go anywhere also needs to be able to have great stopping power. For that we added stainless steel brake lines and cross drilled/slotted rotors.
From our initial testing, this vehicle has exceeded our expectations in every way. You can even say that this is the best all-around vehicle we have built to date.