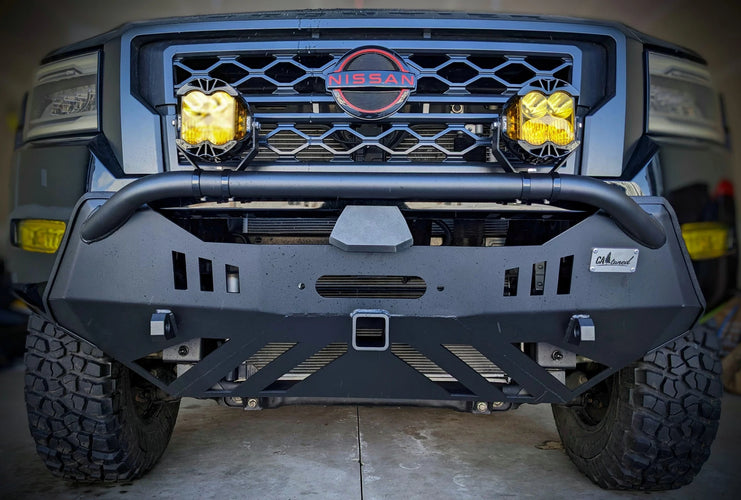 At CAtuned Off-Road, our goal is to consistently produce high-quality products that are equipped to handle any terrain our customers may encounter. Check out this recent customer feedback about their experience with our +22' Nissan Frontier Off-Road Bumper:  
"Hey folks, it's been a minute since I've been on here but I wanted to give a quick update and review on this bumper from CAtuned Off-Road. They have an account here and have posted about it before, but I'm only the second owner I know of with one out in the wild. If you're not familiar with the company, they're based out of California and were originally known for their BMW restoration builds, but also have a large presence in off-roading equipment for the Sprinter and Transit vans. When the Nissan Frontier was refreshed last year, they jumped into the market with a number of offerings for this platform, which is awesome because any additional aftermarket support is welcomed.

The bumper itself a very robust piece. All-steel construction and the welds are super clean. The powder coating is even across the bumper, thick, and warrantied for one year. The hoop up top is DOM tubing and I would have no reservations about it's ability to protect the front rather than becoming a force multiplier. The front sensor is located fairly close to it's position from the factory, so there are no issues and no need for recalibration. It's ready for a winch (still shopping around for one) as well as D-ring shackles (mine arrive later today). All in all, I've been thoroughly impressed.

There was some cutting involved but that's primarily for aesthetic purposes. It bolts on to the factory hard points (where the tow hooks would've been) and is a relatively straightforward endeavor. I helped draft installation instructions while I put mine on, so hopefully they'll be of help to the next round of owners. There's a guy named Kai who has a YouTube video on his own installation as well. Thus far, the only negative I would have is the increased weight (no fault of the company, just comes with the territory). The bumper is roughly 100 lbs and when you have that much weight hanging fore of the front axle, you're bound to feel it. Having a solid suspension setup will do wonders to mitigate this, but that's the nature of increased mass on any vehicle.

Max over at CAtuned was very responsive with any questions I had and has shown exceptional customer service. I plan on putting in an order for their ditch lights soon. If you're in the market, don't hesitate to check them out!" 
Read More from the article here: https://www.clubfrontier.org/threads/catuned-off-road-bumper.382307/