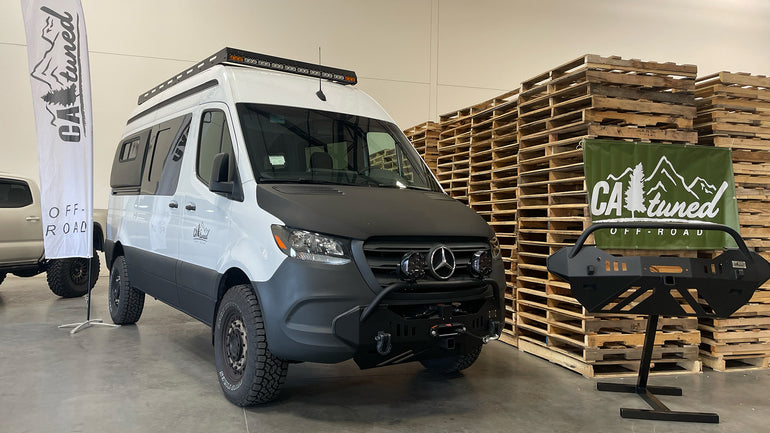 The event season has officially begun. There are a ton of events to attend, and we wish we can make each one. We've hand selected the events we will be attending during the summer. If you aren't following us on Instagram, I highly suggest you do to keep up with our event schedule.
 The first event of the year that we attended is the
Adventure Van Expo in San Juan Capistrano
. We've been so busy leading up to the event that we missed the deadline to sign up as a vendor. Hopefully the next one we can sign up as a vendor so we can have a display. Nonetheless, we couldn't miss out on the event and say hello to some of our dealers. 
Adventure Van Expo
I couldn't ask for a better day as the sun was out, nice cool ocean breeze and was a beautiful day overall to have an event. Cruising around the parking lot as it was starting to fill up I've come across a number of vans with our bumpers on it. It's exciting to see our product in the wild!
CAvans had both of their display vans outfitted with our Sprinter Bumper, pretty cool to see the KChilites on the bumper to match the roof rack lighting.
Our good friends at 
Travois Vans
 also had both their display vans with our bumpers on them. Stay tuned as they are also building out the interior of one of our vans. We'll have that blog up once it's been completed.
Owl Vans
 had a couple of their vans in their booth with our bumpers on them as well. One of them had a built-in air compressor with the lines coming out from the front and rear bumper which make it super easy to air up.
Here are a few more vans that had our front bumpers on them. One of them got creative and added some BD spots to the front bumper.
It was a good to see some familiar faces and great to meet some new people at the event. We'll be looking forward to the next event.
Pit and Paddock Cars and Coffee – Overland Edition
After a full day at the Adventure Van Expo, it was time to shift gears and get ready for the FIRST Pit and Paddock Cars and Coffee – Overland Edition at the CSF Radiators Headquarters in Rancho Cucamonga, CA. As we anticipated, we were the only overlanding Van in attendance among the slew of Toyota Tacomas, Tundras, 4Runners that dominated the scene. There was a good variety of builds from rock crawlers to mall crawlers hehe.
We were nestled inside with the VIP guests which was nice to be inside for a change. Although we were the only van, that didn't stop the spectators to come out and be intrigued about the overlanding van life. I'm sure some were bit by the bug as they contemplated trading in their rigs to get a van =)
It was a fun and great day to cap the weekend of events. You can check out the full coverage of the event here. 
We've got more events coming up in the near future, check back with us here in a few weeks as we will be attending the Overlanding Expo in Flagstaff, AZ.