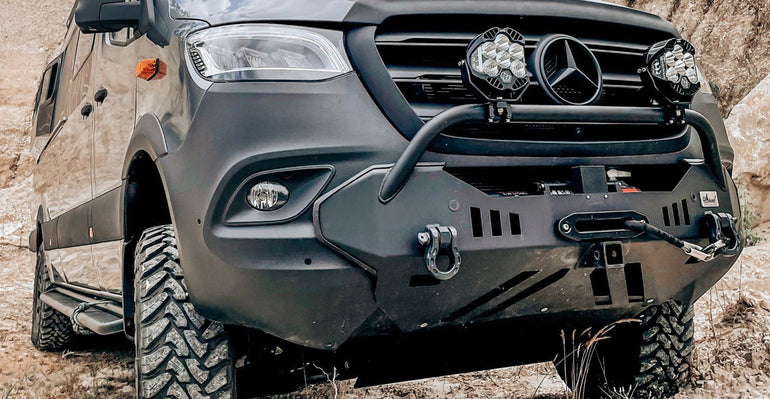 When we set out to create our off-road bumpers, we were dead-set on making them our flagship product. 
We did our due diligence with research on other bumpers out there on the market, we took everything we know about off-roading and overlanding, and then combined that in order to make this product. The result: a beautifully engineered bumper, created by off-road enthusiasts for ultimate convenience – on or off the trails.
Designed by Off-Road Enthusiasts, for Off-Road Enthusiasts
There's nothing worse than buying a product and being disappointed – whether that be because the fitment is off, or maybe its not the same quality or level of performance you were anticipating – that's why we made sure that every single component of our bumpers was thought out with longevity, durability, and convenience in mind.
Quality Construction, Hand-Fabricated In California
Anyone that's found themselves in the middle of nowhere, in an area that they didn't plan on, knows that plastic pieces just doesn't cut it when you're off-road. Same goes with the basic, frail OEM plastic bumpers that come on these vehicles from the factory. 
CAtuned Off-Road Bumpers provide substantially improved protection for the front end of your vehicle and its vulnerable mechanical components during travel.
Our bumper construction all takes place at our Northern California, USA headquarters – they start off with ultra-heavy-duty 3/16 DOM steel sheets, which are hand welded and fabricated with the utmost attention to detail. 
Best-in-Class Finish Warranty
After a strict QC process, each bumper is sent off to get a black powder-coated finish that offers unparalleled protection and corrosion resistance. We ensure this finish appears seamless with the specific vehicle's other trim pieces. We guarantee you'll be impressed – and we're so confident, that we offer a one-year warranty on the finish of all of our bumpers. 
Clean, Sleek Design Using Original Body Lines
Believe it or not: the very first thing we knew needed to be different about our bumpers was the look. It seems all other off-road bumpers on the market are huge, bulky, robust, and way too in-your-face. We wanted to design something that looks rugged, but also looks like it belongs on the vehicle. 
We believe the design teams at Mercedes-Benz and Ford know what they're doing – so we took advantage of their expertise, and utilized the vehicle's original body lines. We continued the contour lines on the OEM bumpers through the design of our CAtuned Off-Road bumpers. 
This ensures not only a in-place look, but also ideal fitment for the specific vehicle.
Simple Bolt-In Installation
As close to "plug-and-play" as it gets. While our bumpers do sometimes require relocating the factory radar sensor, they utilize all of the original vehicle sensors and adaptive cruise control components, unlike some other options on the market.
 Each purchase includes instructions, plus a template to make cutting proper lines a breeze during installation. 
Add-On Everything You Need
Out of the box (…er, crate), our bumpers feature additional front hitch and dual shackles. 
Most that purchase a bumper specifically for off-roading could use a winch as well – that's why we created this bumper to be 100% winch ready. Its a solid base and a perfect fit for the popular WARN VR Evo 12-S, which we offer as a discounted add-on whenever you purchase a bumper through our website.
Additionally, our staff has compiled other recommended vehicle-specific products from some of the best brands in the off-road world – such as Baja Designs lighting, Axia Alloys mounts, and other CAtuned components – all of which directly pair-up with CAtuned Off-Road bumpers.
Now Available At Retailers Worldwide
Indeed, our Off-Road Bumpers quickly became our flagship product, in which we continue piggyback on for other vehicle applications. In the future, you'll see the same care and quality carried on throughout an array of applications – not only in the overloading market, but also for hardcore off-roading and recovery.
Currently, they are offered for the following vehicles:
2019+ Mercedes-Benz Sprinter
2018 and Older Mercedes-Benz Sprinter
Ford Transit
To purchase, visit CAtunedOffRoad.com or any CAtuned dealer.
For wholesale and manufacturing partnership inquiries, please contact Ken@CAtunedOffRoad.com