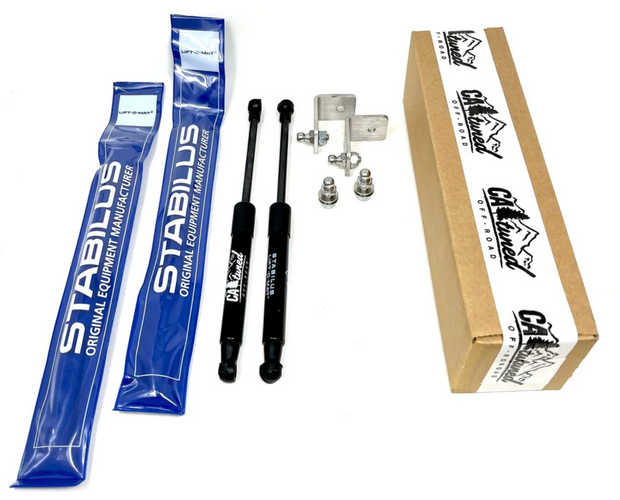 Our experience doesn't only lie within off-roading and overloading. Much like we've aimed to deliver with our bumpers, we're huge fans of all things convenient when it comes to working on or using our rigs.
We do tons of real-life research and, aside from off-roading, we work on them in our shop all the time too. One thing that came to our attention pretty quickly on the 2019+ Mercedes-Benz Sprinter, was the less than adequate hood prop. 
The OEM one is short and pretty flimsy, and has been reported to bend and break during use. If you're like us, many have also got a hood to the back of their head a time or two.
We set out to find the ideal solution for this – a small, but mighty upgrade. Our new premium, gas-charged lift supports are engineered to lightly lift the hood for you and hold it open, allowing easy access all around your engine bay.
The CNC machined truss design brackets and hardware are made from high quality stainless steel and are much more secure and heavy-duty than the OEM prop. Best of all: both sides install in less than 5 minutes with basic hand tools.
Kit includes: 
Drivers and Passenger Side Hood Ball Studs with Washers and Nuts
2 Lower Fender Stainless Steel Brackets (Same for Both Sides)
2 Gas Struts
Tools needed:
10mm Socket with Ratchet or Wrench
Two 13mm Wrench
Shop the CAtuned Off-Road Hood Struts for 2019+ Sprinter here.