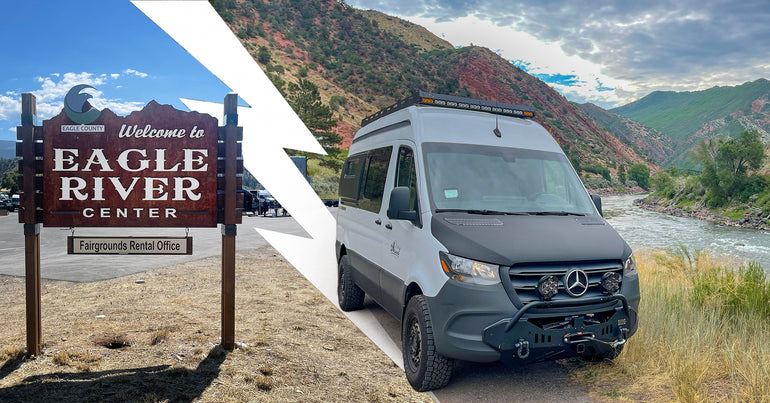 On the road again… This time to Eagle Colorado for another Adventure Van Expo. It's been a while since I've driven to Colorado. I was looking forward to some nice cool weather and crisp fresh air, considering it was super-hot and smoggy in SoCal. However, looking at the weather forecast, the temperatures were almost identical. I hit the road, first top Las Vegas. I'm so glad it was just for a pit stop because it reached 114° with flash flood warnings. If you haven't taken this route before, you'll experience the scenery change over time from desert to the beautiful Virgin River Gorge, majestic mountains, and rock formations in Utah then into the Colorado Rocky Mountains. There were so many breathtaking views on the way and if I stopped at every view point or turn out it would take me days to get to Eagle.
I planned ahead to arrive to the Denver Colorado area to visit a couple of our dealers before the event. First stop was Tourig Vans. I've heard many great things about their shop so I was really looking forward to seeing it with my own eyes. As I arrived, I was met by Jonathon who was an exceptional tour guide.
As I pulled up, I thought maybe there were several businesses within the two buildings on the lot. Turns out that Tourig owns and operates out of both buildings. My jaw dropped when Jonathon mentioned that. One building is dedicated for building vans, they have multiple bays for each stage of the van build. The showroom floor doubles as the final and delivery stage where they take the time to go over the van with its new owner. The building across is a new addition built earlier this year and is part of their new venture TRG which will be more service oriented for all vans. They have a couple of Mercedes Benz Sprinter certified technicians on their roster to do full service/maintenance and other qualified techs that can do wheels and tires, alignments and most important, installation of the CAtuned Off-Road Bumpers!
Next stop, Vanlife Customs. Now don't let the look of the building fool you, from the outside it looks like a typical business park with multiple units. But from the inside, it's fully gutted to fit their offices and warehouse/service space that is just over 20,000 sqft. Vanlife Customs also has multiple bays for each stage of the van build with dedicated warehouse space for their building materials and parts for their builds. Immediately walking through the bays, I noticed 2 of the vans getting blessed with CAtuned Off-Road bumpers. I arrived toward closing time and you can still hear the buzz of everyone working and cleaning up for the day. I was impressed by the efficiency of their operations and their efforts to maintain the cleanliness of the shop. Vanlife Customs not only builds vans, but also services them as well. They have highly qualified technicians and the proper workspace to service and maintain your van. Huge shout out to the Vanlife Customs team for the tour and hospitality.
After doing my visits, it was time to head to the Main Event! Adventure Van Expo, Eagle Colorado. I arrived just before sunset, which was perfect that I still had some sunlight to get situated. 
After a night of rain, thunder and lightning, waking up to the brisk fresh Colorado air was amazing. It was time to set up the booth and get ready for day one of the expo, but first coffee…
The first day of the show was very busy. Many were impressed by the bumper and the CAtuned Off-Road van with the interior built out by Travois Van. The foot traffic was pretty constant throughout the day considering the flash flood warning closing the Canyon Pass through Glenwood Springs for several hours. As the day went by nearing sunset, everyone was getting ready for a fun evening with live music, cookouts and some Karaoke!
Day 2 is usually the time when the campgrounds begin packing up prepping for their journey back home. As foot traffic was not as busy as the first day gave me the opportunity to walk around and check out the other vendors and get to chit chat with our dealers that were present. It was great to see the number of dealers who carry and install our products grow.
Overall, I highly recommend attending the Adventure Van Expo if you are new to the vanlife or even on the fence about getting one. You get you see and speak with various builders who have their own unique style and other vendors who sell parts and accessories that fit anyone's taste. 
To see the upcoming schedule for the Adventure Van Expos visit their website here.
I had a great time on this trip, unlike the last trip up to Hood River when I took a scenic route back home, I had to make a straight trip back to reality as we have another event to prepare for, Explorer Expo in Big Bear CA on July 23, 2022. If you plan on attending the event, please come by our booth and say hello. I'll catch you on the next blog!
Cheers!