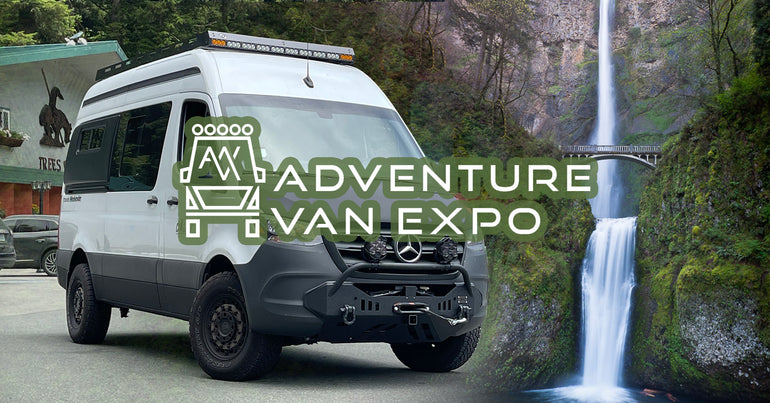 The Adventure Van Expos are really exciting to attend because compared to most overlanding or off road expos, meets and shows, these are van specific and it's humbling to see the number of vans with CAtuned Off-Road products.
This road trip in particular was an exciting one as I was able to bring the family along for the journey. This was the first family trip to Oregon so we wanted to soak it all in with the limited time we had. We traveled the majority of the night into the early hours of the morning through California and finally stopped at the Weed Airport Rest Area, not bad considering we started in Pasadena, CA. You may be asking why SoCal if CAtuned is located in Norcal. If you haven't already met or have been in contact with me yet, please allow me to introduce myself, I am Ken Cruz, new Sales Representative for CAtuned Off-Road and I live and work remotely in the Los Angeles area. So for all you SoCal dealers, you'll be seeing more of me in the coming months as I start paying visits to you guys.
Back to the trip. As we got closer to our destination, traveling on Interstate 84 (Historic Columbia River Highway) alongside the Columbia river that divides Oregon and Washington state was a beautiful site to see. Coming from LA we don't have any rivers like this, and no you can't compare the LA River to something like this. 
We had to stop and check out this breath-taking view of Multnomah Falls. This is one of the most visited natural recreation site in the Pacific Northwest. I highly suggest visiting Multnomah Falls if you are traveling through Oregon.
After being on the road for what seems like forever, we finally reached our destination, Hood River Fairgrounds where the Adventure Van Expo is being held. Got a quick photo of our nice little camping spot while we were setting up.
Adventure Van Expo, Hood River – Day 1
For this event, we camped and walked the show. We didn't have the time to be a vendor as all of our schedules didn't allow us to stay for both days. Nonetheless, we wanted to make the most out of it and visit with some of our dealers and potentially meet new ones. 
It didn't take that much time to come across our top selling CAtuned Off-Road 2019+ Sprinter bumper . The first row in the vendor area we have Titan Vans that had their display van outfitted with the CAtuned Bumper. Looking around their booth area, I noticed their catalog also features their promo van that had our bumper on it as well. We really appreciate the support from our dealers and always like to highlight things like this, it's the least we can do. 
As I made my way around the event, the vibe of seeing all the spectators and families checking out all the different styles of builds and getting inspiration for their own was amazing. It was definitely a beautiful sunny day. There was supposedly a heat wave that weekend and temps in the 90's. Coming from SoCal, this was a perfect sunny day. I guess you can say we brought the sunshine to the PNW. I spoke with some of the locals and they mentioned they had about 2 months of cloudy and rainy weather and that was one of the first weekends the sun came out.
After making my rounds through the entire vendor area, there was quite the number of vendors that had vans on display with our product on it. There was Roost Vans , Storyteller Overland , Canyon Adventure Vans ,  Owl Vans , Navan Vans , Adventure Wagon and some vans in the camping area that all had CAtuned Off-Road Bumpers .
Now this is a really unique way to utilize our bumper. Benchmark Vehicles hooked up a double hanging chair system onto the front receiver. There are many ways to use the front receiver feature from bike racks to hammocks, people can get pretty creative.
Overall, the event is a great event to attend regardless of if you are just getting into the vanlife and gathering inspiration for your next build. I would highly recommend getting a camping spot, van or no van, you can pull up right into a spot, set up camp, enjoy socializing with your neighbors and soak up the entire outdoor/overlanding experience. It's super family and pet friendly. Perfect for a get away without having to really rough it in the wilderness. Go visit Adventure Van Expo for their list of events and attend one near you!
Now for the trek back home. Since this was the first time my family was in Oregon, we decided to take the scenic route back home. So from Hood River, we headed to the coast. First stop was Tillamook, OR for some cheese!! Tillamook just opened up their Creamery serving their world famous Ice Cream. Not a bad way to start our journey home with a treat!
We stopped by a couple of vista points, but the fog was rolling in and really didn't have great views until we arrived to Devil's Punch Bowl. We rushed because we wanted to catch the sunset there and I'm glad we got there just in time. Perfect way to end the day by watching our very first Oregon sunset, which was way later than we used to. It set around 9:30pm, an hour later than SoCal.
We stayed the night on the South Siuslaw Jetty which separates the Pacific Ocean and the Siuslaw River. Next to the sand dunes of Dune City. From there we headed down through Coos Bay, Gold Beach and into California through the Redwood National Park. We stopped by the Trees of Mystery to see the Paul Bunyan and Babe the Blue Ox statues and were mesmerized by the beautiful red wood trees that towered above us.
After the Redwood National Park, we headed back inland to take the faster way home because we had to get back to reality, back to work since we've done the PCH trip from NorCal to SoCal before. I've been bit by the van life and I'm very fortunate, thankful and blessed for this opportunity. I'd like to give a big thanks to Max, owner of CAtuned Off-Road for this opportunity and entrusting me to help grow this company. I'm looking forward to what is to come and can't wait to share this journey with all of you! Thanks for your time and if you made it this far in the blog, you're a trooper =) Till next time! Take care and be safe out there!